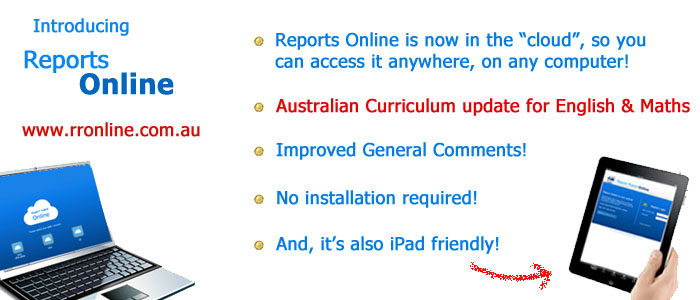 * AusVels English is now available.
What Teachers are saying about Reports Online
"I think it's a great innovation for teachers. It has reduced my report writing time a great deal and my life and family truly appreciate that."

"I would like to say that this program is the BEST thing I have ever used! It's incredible! Thank you!I never thought that doing my reports could be so quick and easy!"

"Terrific, varied comments which didn't take long to complete once I got the hang of it. Thanks Report Robot! Marvellous!"

"Thanks for real support - many companies claim to support their customers, but few come through when it counts."
How does Report Online compare?
Reports Online is unique to all the other reporting tools available - even compared to overseas software. Most other systems offer little help to the teacher to write her/his reports. Some systems are mere glorified comment banks that create disjointed comments. Reports Online is different because it is intelligent. It produces naturally sounding comments and gives teachers a head start in writing their reports. Add the Export To Word feature (NSW School Edition) and you have a "fantastic" way to write reports. Click, Tweak, Print.
Reports Online is the BEST reporting tool available!
Need More Info?
View video demonstrations:


See why teachers prefer Reports Online!